You already know that being in a long-distance relationship isn't always easy. The hardest part is all of the little things that you miss about having your love live in your shared home or right around the corner. There's so much to miss: having someone who welcomes you home at night and asks "How was your day?" and genuinely wants to know the answer; date nights that aren't virtual; a partner to snuggle on the couch with and watch a movie after a long day; and the million other small things that people who see their significant other whenever they want take for granted. But maybe the most challenging part of long-distance relationships is missing physical affection and, well, sex.
The desire to be intimate with your partner seems to intensify by about a million percent (rough estimate) when you know you won't see them again for weeks or months. To keep a long-distance relationship thriving, you have to learn quickly how to expand your definition of sex. It requires getting a little creative to keep the romance going, but luckily, with technology, it's getting easier and easier to keep the love (and lust) alive from a distance. And I'm not just talking about Skype! With the toys that are available now, you might even find that your sex life is more exciting than it's ever been.
I've rounded up some of the best long-distance sex toys, and I'm going to tell you exactly why they're great. But the best part is that you get to experiment. Forward this on to your significant other and get their opinion on what you should try first, or surprise them with a sexy delivery.

Lovense is one of the best sex toy companies for long distance lovin'. Their "Max" and "Nora" models are his and hers toys that can be controlled from a distance—ANY distance. So while you're hanging out at home in San Francisco, your man can turn up the vibration and rotate your vibrator while he's in Paris. It's the closest thing to having him right there in the room with you, and what you lose in having his physical presence, you make up for in vibrations. And you're not having all the fun by yourself. While your love is controlling your "Nora," you can control his "Max," and achieve that elusive simultaneous orgasm while never actually having to be in the same room.
So, how does it work?
The toys are both controlled by Bluetooth, and Lovense has a "Body Chat" app that acts as a remote control. You can use the app for solo play, have your lover control it from afar or sync both your toys so that they interact with each other. So if your man is using his "Max" at a medium speed and then decides to pick up the pace, so will your "Nora." Pretty amazing, right? The app also lets you video chat while you're each using your toys, and you can record your sessions if you want to get freaky. To get specific about the toys: Nora has a vibrating arm to arouse your clit and rotating beads for internal stimulation; the vibration and rotation are what your partner will control. In the 2016 update of the product, the fifth generation, the clit arm is more flexible and the shaft is optimized, leading to even more powerful orgasms. There is an improved charging port as well. It's also waterproof if you want to spice things up by using it in the shower or bath. The Max is a realistic skin-like masturbation sleeve that combines vibration and contraction to simulate sex; again, you're going to control the vibration and contraction from afar. These toys are going to make their users very, very happy. Check out my in-depth Lovense review.
Video chatting is the saving grace of long-distance relationships because being able to see your love makes them feel not to so far away. And steamy video chats? Well, they're what keep your sex life alive. Kiiroo toys are all about taking your video chats to the next level. His and hers toys interact with each other via Bluetooth while you're video chatting so that you can hear and feel your partner. The best part of Kiiroo is that it comes with its own video platform, so every part of the experience is designed to maximize your long-distance love. In addition to sharing video and audio data, now updated to the FeelConnect App, both Pearl and Onyx signal back and forth helping provide constant physical interaction. What does that mean for you? It syncs up the movement of your toy with the movement of your partner's one so that you are replicating the give and take of an in-person experience.
So if you're man is really, um, going at it? Well, you'll be able to feel that on the other side of the screen. Plus, the interface is beautiful and minimal so that you really feel like you could reach out and touch your partner if you wanted to. The only drawback to the Kiiroo Onyx (male masturbator) and Pearl (female vibrator) is that they are at the higher end of the price scale, at $369 for the couple set, but the price is worth it if video chatting is big part of your long-distance sex life–or if you want it to be!
Another one of the great things about Kiiroo is that they also offer sets for female same-sex couples and male same-sex couples.
Special for SurviveLDR readers: Use the coupon code surviveldr15 to get 15 percent off the prime Kiiroo products from every day for SurvuveLDR readers! Also, check out my in-depth Kiiroo review.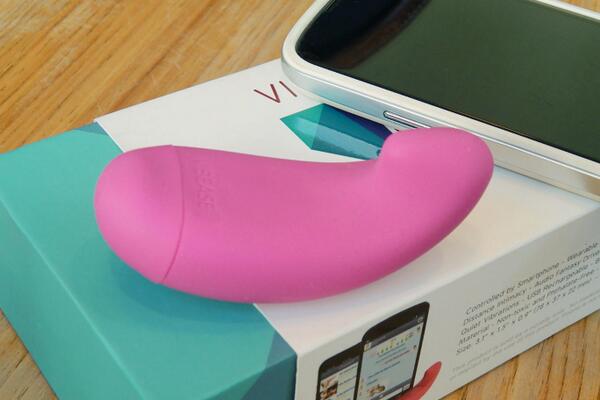 Here's my take on the Vibease: It's for when you want to have some naughty play with your long-distance lover. Why? Because it's wearable, fits in your panties and is completely silent. So if you wanted to, I don't know, take your sex beyond the bedroom or even beyond your house, you could slip this on and have your partner control it while you're at your desk or out to dinner or just about anywhere. And as long as you kept your reactions under control, no one would know. Your significant other could even tell you when and where to wear it if you wanted to explore some role-playing. But don't let me tell you what to do! You guys can experiment with whatever works best for you. That's half the fun.
Let's talk about the specifics of the Vibease. The Vibease is fit-in-your panties small, rechargeable via USB, waterproof and has customizable vibrations. It's controlled by an app, and the amount of distance between you and your partner doesn't matter. But maybe the coolest thing about Vibease is that it syncs with erotica. So you can select a fantasy story that suits your mood, and while you're listening, the Vibease will vibrate in sync with audio fantasy. It's hands-free, so you don't have to control it OR think up your fantasy. Vibease might just give you the easiest orgasm you've ever had. Again, the disadvantage of this one is that there are no matching toys for your male partner, but I think the fun of controlling it while you're possibly out in public might make up for that. Imagine the fun that could be had if you wore it all day and had no idea when your partner was going to turn it on …
Special for Survive LDR readers: Vibease normally sells for $119, but click on the coupon code Jennifer to get our special SurviveLDR discount, along with free shipping. Also, check out my in-depth Vibease review.
If you want to have fun in the bedroom and—if you're really naughty—out of the bedroom, try the Lovense Lush. One of the fastest-growing trends in sex toys is wearable vibrators that can be controlled from a distance. Unlike some vibrators that you slip into your panties, the Lush is an internal vibrator, which makes it a little more discrete and a little more secure. One of the most powerful remote-control bullet vibrators out there, the pretty-in-pink Lush is perfectly curved to hit your G-spot. The flexible Bluetooth antenna extends beyond the body, giving it the longest control range out of all wearable Bluetooth vibrators. Which means your partner can control it from any distance.
First, you and your long-distance lover download the smartphone app. (It's compatible with the iPhone 4s/5/5s/6/6+/6s/6s+ and iPad 2/3/4/Air as well as Android 4.3 and later with Bluetooth 4.0 LE enabled.) The app walks you through how to pair your phone—and your lover's phone—with the vibrator step by step. Now your phone becomes the remote control for the Lush. Within the app, you can tap and slide the screen to change the vibration setting in real time, and you can create custom vibration patterns that suit your needs. You can even set it to vibrate in time with your favorite songs. Imagine the powerful pulses you'd feel during "Shake & Tremble" by Django Django.
You can, of course, use the Lush for solo play, but the best way to use it is with your long-distance love. Using the long-distance control options, your significant other can get you off from anywhere in the world—anywhere with an Internet connection, I mean. The app also has a messaging platform so you can schedule playtime. Plus, when he comes to visit, you can experiment with discreet public play. Imagine sitting at a coffee shop trying to hold in your moans while he teases you one of your favorite custom vibrations.
One of the things I like most about the Lush is that it's an internal vibrator. The material is super comfortable, and when inserted, it's nearly silent, so you don't have to worry about anyone hearing it. (Whether they hear your moans is entirely up to you!) With a battery life of up to two hours, you can have hands-free fun with your partner no matter where they are. Check out my in-depth Lovense Lush review.
The Esthesia is the newest "smart" sex toy from Vibease. Just like the Vibease, the Esthesia can be controlled by pushing buttons on the vibrator, or you can control it by the app. The app is what makes it perfect for long-distance relationships (read more in my Esthesia review). All you have to do is connect your vibrator to your phone (via Bluetooth) and then connect to your guy's phone. Now he can get you off where he is in the world.
But the best thing about the Esthesia is it has a clitoral and G-spot stimulator. With powerful dual stimulators, you get double the pleasure. The soft silicone body almost feels like skin, and the carefully molded tips stimulate more than one erogenous zone at the same time, leading to perfectly blended orgasms. By simultaneously massaging both zones, you get a deeper, longer experience. Your blended orgasm might just drive your partner over the edge, too, even if they are a thousand miles away. If you ever want to use the Esthesia alone, it has a cool feature where it vibrates in sync with fantasy stories, so you can turn on a little erotica and let the vibrations do the rest.
The Esthesia has a smooth silicone body that is safe and easy to clean. Plus, it's USB rechargeable. It charges in 60 minutes, and then you get two hours of double the pleasure. If you're looking to add more spice, intimacy and connection to your long-distance relationship— and you crave the internal and external stimulation—the Esthesia is what you've been looking for.
Special for Survive LDR readers: The Esthesia usually sells for $139, but for SurviveLDR readers there is an additional special discount if you apply the code Jennifer at checkout. Also, check out my Esthesia review.
---
Whatever long-distance sex toy you choose, it's going to add some spice to your long-distance love, and who says you have just to pick one? Maybe start with one only your partner will control and then upgrade to synchronized toys after that! The point is to have fun and don't be afraid to experiment!